Recipes
Plum cake Berlin style – recipe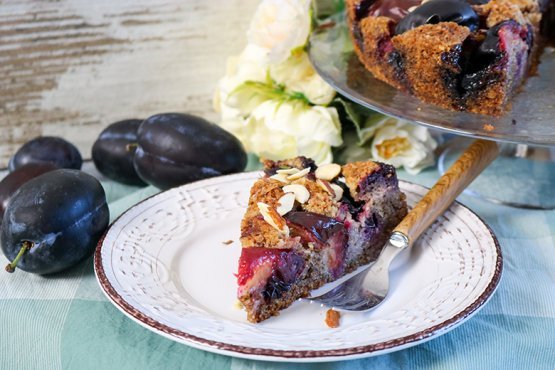 ingredients

For

12

Servings
750
G
Plums, fresh
10
G
Butter, for the mold
1
Tbsp
Breadcrumbs, for the mold
2
Tbsp
Breadcrumbs, for the dough base
2
Tbsp
Almonds, chopped, for sprinkling
2
Tbsp
Flour, for the work surface

Ingredients for the dough

125
G
Butter, soft
110
G
Coconut blossom sugar
2
Pc
Eggs, size M
180
G
Whole wheat flour
1.5
TL
baking powder
125
G
Almonds, ground
recipe

preparation

Preparation of the dough:
For the dough, put the softened butter with the coconut blossom sugar in a mixing bowl and whisk until frothy with the whisk of a food processor. Then stir in the eggs one at a time.
Then mix the flour with the baking powder and the ground almonds, add to the butter-egg mixture and stir in well.
Then take the dough out of the mixing bowl, knead briefly, shape into a flat brick, wrap in cling film and chill in the refrigerator for 30 minutes.
Preparation of plum cake Berlin style:
In the meantime, wash the plums, pat dry, cut them in half lengthways and remove the stones.
Then preheat the oven to 200 ° C (convection 180 ° C) and grease a springform pan with butter and sprinkle with breadcrumbs.
Now sprinkle a work surface with flour, wrap the dough out of the foil and roll it out on the work surface a little larger than the shape.
Then place the dough in the mold, pulling up a small edge of the dough, then sprinkle the dough with the breadcrumbs, spread the prepared plums on it like roof tiles and press lightly.
The Plum cake Berlin style Bake in the preheated oven on medium setting for about 40 minutes.
Then take the cake out of the oven, let it cool for about 15 minutes and remove it from the mold.
Finally sprinkle with the chopped almonds and serve.
Tips

to the recipe

Coconut blossom sugar is available in the organic departments of large supermarkets or in health food stores. It tastes slightly like caramel with a hint of vanilla and malt and can replace conventional sugar in all dishes.