Recipes
Weeknight Dinners: 20 Quick and Healthy Recipes
This post may contain affiliate links. Please read our disclosure policy for more information.
Weeknight dinners make it 100x tougher to remain on track, regardless of how good your intentions are – whether you've made vows to eat healthier this week or want to save money by cutting your takeout food budget.
Cooking dinner after a long day of taking care of the kids or dealing with customers at work is not an easy undertaking.
However, it is the daily minor decisions that will form your future health and financial situation.
Instead of going to your food delivery apps to feed you and the family, you can rely on these easy and healthy weeknight dinners to help you get through the workweek.
The best part is that these meals require little prep time and are very simple to make – faster than you browsing through different menus and waiting for the delivery guy to show up at your door!
Here are my handpicked weeknight dinners that will make your life a whole lot easier!
Get 21 Free Keto Recipes 🥑🎁 (Yummy)

Today, I've rounded up 21 of my favorite keto dishes for breakfast, lunch and dinner. You're going to want to bookmark this list, as these recipes are totally drool-worthy.

All recipes come with simple ingredients and easy instructions and you can download everything today for free. 

Sounds good?

==> Just click here to download your FREE copy of 21 yummiest keto recipes
1. Mediterranean Chickpea Tuna Salad
The recipe found on The Almond Eater.
If you're starving and need something super quick and easy, then this is it. This chickpea tuna salad is healthy and only takes 10 minutes to make. Feel free to toss in some fresh bell peppers to make it even healthier!
2. Beef and Broccoli Stir Fry
The recipe found on Two Peas & Their Pod.
Feeling for Chinese food lately? Don't worry, you can satisfy your Chinese food craving with this mouthwatering plate of tender beef and fresh vegetables, covered in a delightful layer of sauce.
Stir fry is one of the fastest ways to get food on the table and needs to be in your workweek dinner rotation schedule ASAP.
3. Roasted Veggie Pesto Sandwich
The recipe found on About to Sprout.
Many people like to follow meatless Monday meals at the start of the week because eating too much of something is never good. But when your sandwich is as appetizing and flavorful as this roasted veggie pesto sandwich, you won't miss the meat at all.
4. Instant Pot Whole30 Cashew Chicken
The recipe found on Shuangy's Kitchen Sink.
Some might think that it's nutty to put cashews in your food but wait until you try this crazy recipe! It's big on flavors and healthy at the same time (unlike your takeout food). The juicy and tender chicken will take your taste buds for a ride. You know your meals will be simple to make when you see the word Instant Pot on them. Check out the best Instant Pot recipes that are absolutely wonderful and easy to make!
5. Slow Cooker Creamy Tomato Basil Chicken
The recipe found on The Recipe Rebel.
When you have a thousand things to do around the house, you don't have time to be in the kitchen. Lighten up your load by taking out your slow cooker to cook dump meals. This slow cooker creamy tomato basil chicken recipe is super delicious and creamy so be sure to make extras! Everyone will think that you've spent all day preparing and cooking this incredible meal!
6. Shrimp Taco with Slaw
The recipe found on Valentina's Corner.
Tacos are one of the best weeknight dinners for any family. They're easy to make and fun to eat. If you love ground beef tacos, then wait until you try these yummy shrimp tacos. They're simply amazing! Kids are picky eaters, but no one can resist shrimp tacos!
7. Vegan Sweet Potato & Black Bean Burrito Bowl
The recipe found on Eat With Clarity.
Want to surprise the family with a new recipe? Give this simple, yet tasty vegan bowl a try! This fresh bowl of goodness is packed with healthy roasted sweet potato, red peppers, onions, mixed with corn and topped with spicy tahini sauce. After your family tries the flavorful rice, you'll be asked to make this over and over again!
8. Healthy Chicken Pot Pie
The recipe found on Well Plated.
You don't need to be stuck in the kitchen for hours to cook a great meal. With this easy and healthy chicken pot pie, you can prep it in 15 minutes and slide it in the oven to cook for 25 minutes. By the time it's done cooking, your home will smell heavenly!  This healthy version is light on calories, so you won't feel guilty eating it!
9. Easy Turkey Stuffed Peppers
The recipe found on Easy Healthy Recipes.
Switch things up and treat your family to this new and exciting recipe! Bell peppers stuffed with turkey (low in fat) and rice mixed with tomato sauce, garlic, onions, and salt, and topped with cheese. It looks great, but it tastes even better!
10. Tex-Mex Chicken Chopped Salad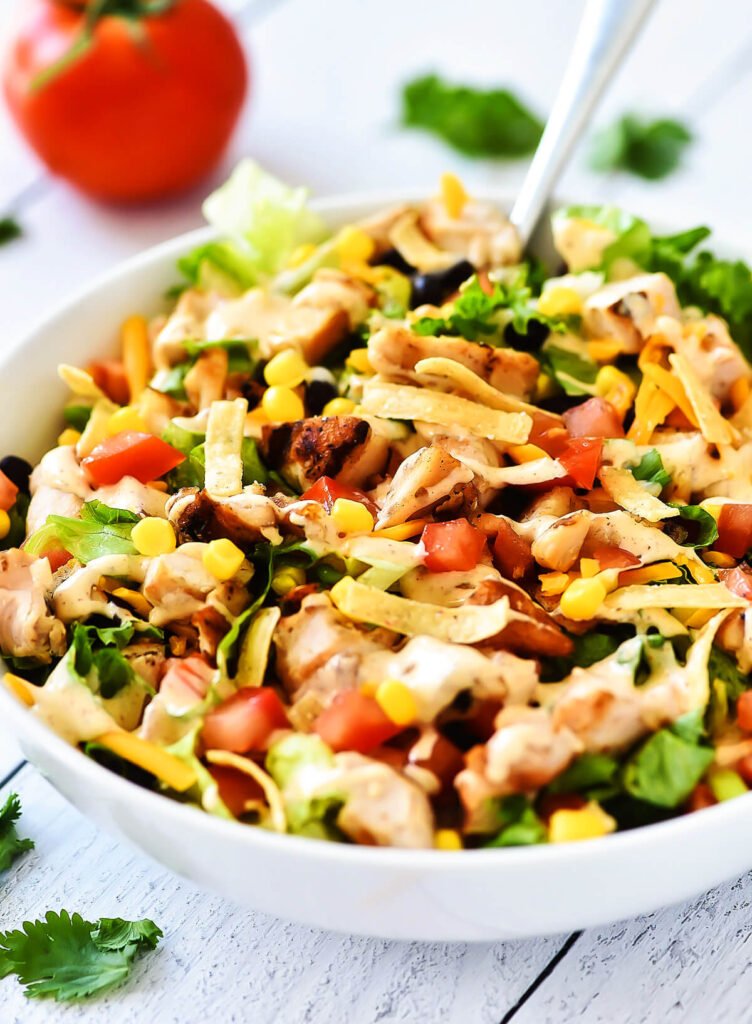 The recipe found on Life in the Lofthouse.
A healthy salad is very simple and can be prepared in a flash – perfect for busy weeknights! You can choose your favorite leafy greens as your base (e.g. romaine, spring mix, or spinach) and toss in cherry or grape tomato, bell peppers, and corn to it. Add black beans and chicken to your bowl of healthy vegetables and drizzle it with some delicious dressing. Dinner is ready to be served! Whoever thinks that salads are boring and not filling is clearly doing it all wrong.
11. Easy Turkey Meatballs
The recipe found on Kim's Cravings.
Spaghetti meatballs are a classic dish for many families because they're one of the easiest meals to make and hardly anyone will walk away from the dinner with eating just one plate. If you're looking for a healthy alternative to your normal beef and pork meatballs, try using ground turkey. Turkey meat has lower calories and fat.
12. Easy Sheet Pan Salmon
The recipe found on Platings and Pairings.
Running out of ideas on what to make for dinner? Try this amazingly easy sheet pan salmon meal tonight! You can practically use any vegetables and protein you want for this recipe and season it the way you like it. Our typical sheet pan dinner contains sweet potato, broccoli, Brussel sprouts, and salmon. We absolutely love sheet pan dinners!
13. One-pot Cajun Chicken Pasta
The recipe found on Supergolden Bakes.
Sometimes, you lose track of time and forget that dinner is fast approaching. In these situations, you can rely on pasta recipes for a quick and easy meal. Pasta and chicken cook very fast so next time you're in a time crunch, try making this one-pot Cajun chicken pasta for the family. If you like to have some heat to your food, sprinkle cayenne peppers in the pot while it's cooking.
14. Vegan Pesto Paste with Kale
The recipe found on Lazy Cat Kitchen.
Another popular dish that you can rush out of the kitchen and deliver it quickly to the dinner table is this awesome pesto pasta. From fresh ingredients to a fully cooked meal in under 30 minutes! You don't even need to have store-bought pesto sauce in your kitchen for this recipe. It'll show you how to make your own fresh pesto sauce from scratch!
15. Beef Chow Mein (Gluten-free)
The recipe found on Beauty & the Bench Press.
Skip the Chinese takeout that is greasy and doesn't sit well in your stomach. Go for this delicious plate of beef and broccoli chow mein that can be served in 30 mins! If your family prefers chicken, you can easily substitute the beef for chicken. Seriously, this homemade version of chow mein is so much better (and healthier!) than your regular takeout food.
16. Crispy Buffalo Tofu Wrap with Spinach and Roasted Red Pepper
The recipe found on Hello Veggie.
Like tacos, wraps are easy and fun to put together that the entire family will enjoy. In this recipe, it calls for buffalo sauce. This little addition adds a nice kick to your wraps, making them more flavorful. And if you love avocado as much as we do, be sure to add some to your wraps!
17. Red Thai Curry Vegetables
The recipe found on Nora Cooks.
Waiting for the weekend to arrive so you can go out for Thai food? Wait no more! You can enjoy your own creamy Thai curry right at home. This red Thai curry recipe strikes the balance between sweetness and spiciness (not too spicy nor too sweet). You only need to use one pan to make this meal… Do you know what that means? Fewer pans to wash!
18. Slow Cooker Cuban Mojo Pork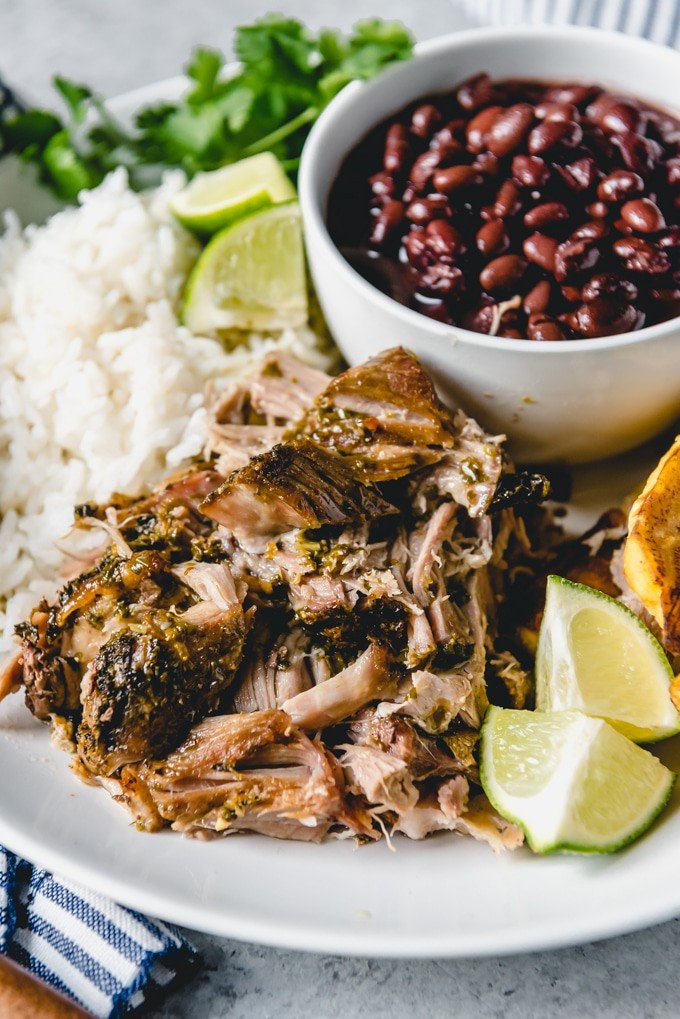 The recipe found on House of Nash Eats.
Pulled pork is juicy, tender, and full of flavors. It's super easy to cook. It does take a little bit of time to prepare in the morning, but after that, your slow cooker will do all the work. You can serve the pulled pork with rice and vegetables or you can use it to make some tasty sandwiches! If you don't have time to cook in the evening, then easy crock-pot recipes will be your new best friend.
19. Balsamic Glazed Caprese Sandwich
The recipe found on Oh, Sweet Basil.
Are you feeling for something that you can pick up with your hands and eat with your fingers? Look no further, this grilled Caprese sandwich will have your hands grabbing for more! If the crispy bread doesn't hit the spot, the tangy balsamic glaze and pesto sauce will nail it.
20. Turkey and Wild Rice Soup
The recipe found on Killing Thyme.
Whenever the weather gets cold, you just want a hot bowl of soup to keep you warm and cozy, right? Fill yourself with a hearty bowl of turkey wild rice soup. Start with carrots, celery, onions, and add other ingredients that you love (we like to add red peppers and mushrooms to my soups). If you don't have any turkey around, you can easily swap out the turkey and use rotisserie chicken instead.
Final Words on Easy and Healthy Weeknight Dinners
Making healthy food choices is hard but staying on track with healthy eating habits on weeknights will make your cheat days on the weekends much more rewarding!
If you're always on-the-go and don't have a lot of time to cook, you can try these easy and healthy meal prep ideas to plan your meals. Meal prep is designed to help busy people reach their health goals, save time and money!
What are your weeknight recipes? Share your ideas below!