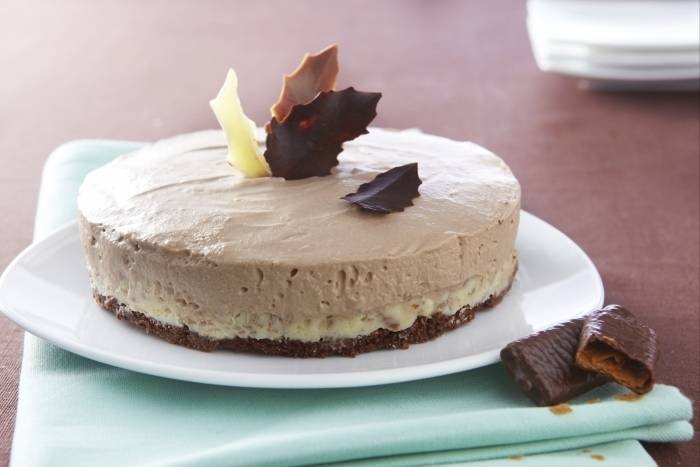 A dessert with three textures (mellow, creamy and crunchy): a treat for chocolate lovers.
INGREDIENTS
For people
For the ganache
White chocolate: 200 g
Whole liquid cream: 10 cl
Gavotte type lace pancakes: 50 g
For the biscuit (s)
Shredded coconut: 70 g
Almond powder: 70 g
Ice sugar: 130 g
Unsweetened cocoa powder: 10 g
White (s) of egg: 5 piece (s)
Sugar powder: 50 g
For the foam
Milk chocolate: 250 g
Whole liquid cream: 35 cl
ESCRIPTION OF THE RECIPE
1. FOR THE GANACHE
Bring the cream to a boil. Coarsely crush the lace pancakes by hand.
Crush the chocolate finely (or use lozenges).
Pour the cream over the chocolate and wait 1 min. Then mix gently so as not to add air to the ganache. As soon as it is homogeneous, add the pancakes and leave to cool at room temperature for 2 to 4 min. Book.
2. FOR CHOCOLATE BISCUIT
Preheat the oven to 170 ° C (Th 5-6).
Beating egg whites. When the mixture doubles in volume, incorporate the sugar and squeeze (whip quickly) to obtain a very firm meringue.
Sift the icing sugar and cocoa into a salad bowl, then add the almond and coconut powder and mix. Then add the powders to the whites in snow by mixing gently with the spatula.
On a baking sheet, spread the dough to a thickness of 2 cm, then bake for 10 to 15 minutes.
After cooking, cut the biscuit to the size of the circle with stainless steel entremets (about 18 cm).
Pour the ganache on it and place in the refrigerator for 15 minutes.
3. FOR FOAM
Melt the milk chocolate in a bain-marie.
Using an electric whisk, whip the whipped cream into a bowl. Then pour the warm chocolate over the whipped cream and mix gently.
Pour the mousse on the ganache and smooth the top, then cool for 30 minutes.
When serving, remove the stainless steel ring and decorate with chocolate leaves.
CHEF'S
"Add spices (cinnamon, ginger …) in the milk chocolate mousse to give your dessert a treat!"