Recipes
Chocolate cake with cheesecake filling – recipe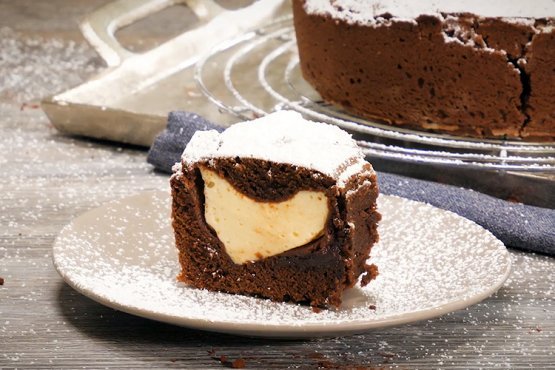 ingredients

For

12th

Servings
150
G
Dark chocolate
250
G
Butter, soft
250
G
sugar
1
Pk
Vanillin sugar
4th
Pc
Eggs
350
G
Flour smooth
2
TL
baking powder
125
ml
milk
4th
Tbsp
Cocoa powder
1
prize
salt

Ingredients for the cheesecake filling

2
Pc
Eggs
100
G
sugar
1
Pk
Vanillin sugar
500
G
lowfat quark
20th
G
food starch
recipe

preparation
For the chocolate cake, first coarsely chop the dark chocolate and melt it in a water bath
Put the butter with the sugar, a pinch of salt and the vanillin sugar in a bowl and stir well with the hand mixer until frothy. Then gradually stir in the eggs.
Mix the flour with the baking powder and mix alternately with 75 ml of milk into the dough. Finally add the liquid chocolate and cocoa powder to the batter.
For the cheesecake filling, place the eggs in a bowl and mix with the sugar and vanillin sugar. Then stir in the low-fat quark and the cornstarch so that a smooth mixture is created.
Now grease a round cake tin with a little butter and dust with flour. Pour 2/3 of the chocolate dough into the mold, brushing the edge of the dough up a little.
Then add the cheesecake mixture, mix the remaining chocolate dough with the rest of the milk and spread over the cheesecake filling.
Then the Chocolate cake with cheesecake filling Bake in the oven at 150 degrees for about 1 hour.
Tips

to the recipe

Dust the cooled chocolate cake with powdered sugar and serve.