When cooking, food is cooked in water at a temperature of around 100 ° C. (Photo by: Lenets_Tatsiana / Depositphotos)
"Cooking" or "Cooking"?
The term "cooking" is ambiguous:
On the one hand, it means any food preparation that is made with the help of heat.
On the other hand, it describes a cooking method that uses a lot of liquid.
To be precise, cooking is the cooking of vegetables, pasta or rice, for example, but also meat and fish in water that is heated to almost 100 degrees Celsius.
Nutritionists and cooks recommend only adding the food to the liquid when it is boiling. This prevents valuable vitamins, aromas and colors from being washed out during the warm-up phase. By the way: water doesn't get more than boiling hot. So as soon as the water and the food boil, turn the lid on the pot and turn the regulator down.
Cooking kills germs and microbes
Cooking is a healthy way to prepare food. Heat-sensitive poisons, microbes and germs are killed.
Contamination that can occur when storing food in supermarkets can be effectively countered by boiling the products.
The sterilization of food by cooking is used in the preservation of food.
Al Dente isn't just for pasta
Cooking – but how long? The word has got around that noodles should never be cooked too long, otherwise they will be unsightly and taste less good.
What applies to pasta also applies to all cooked dishes. Sticky rice tastes just as bad as vegetables cooked too long.
If broccoli is cooked too long, it will turn brown in color. Basically, vegetables keep their color when cooked to the bite.
Al Dente tastes better and is healthier because vitamins and secondary colorings usually remain in the food.
Pressure cooker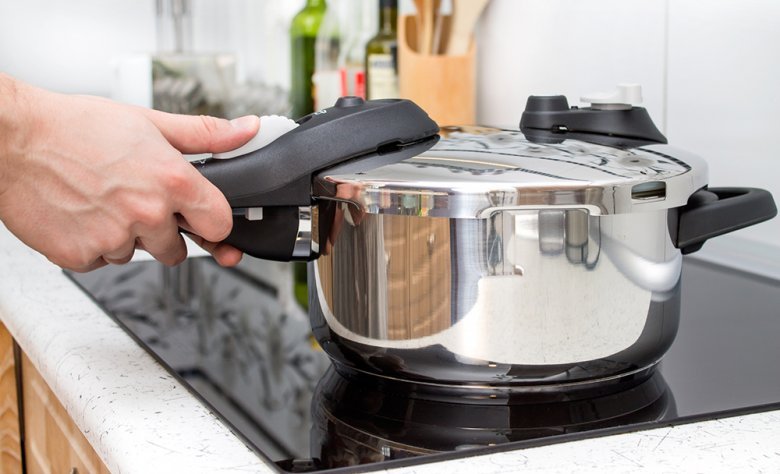 With the help of a pressure cooker, meals can be prepared quickly, inexpensively and gently. (Photo by: baloon111 / Depositphotos)
If you are in a hurry and want to prepare legumes such as beans or lentils in half the time, you should get a pressure cooker.
Chicken broth: health to spoon
Many people suffer from flu-like infections, especially in autumn and winter. What grandmother already knew: Chicken broth works wonders, because it prevents a cold, strengthens the immune system and supports a quick recovery.
The strong chicken broth along with the soup vegetables and a soup chicken must be cooked in boiling water for a good hour.
The long cooking, which is otherwise not advisable, ensures that the zinc in particular from the chicken gets into the broth. And zinc is good for the immune system.
The broth should always be eaten hot, because most viruses and bacteria cannot tolerate heat at all or only poorly.
Cooking chicken soup is relatively easy, but it takes time. (Photo by: agneskantaruk / Depositphotos)
Cooking for the slim line
The cabbage soup is said to have magical properties. The more you eat of it, the more you lose weight.
In individual cases this can be a successful diet measure. However, the fact is that cooked foods usually less calories because they are cooked in water and not in oil.
Unfortunately, the low-calorie vegetables, fish or meat that are cooked do not hit the right "taste buds" and so the low-calorie dishes are enhanced by creamy sauces.
Stews and soups with vegetables of the season also get by with little fat and oil and are healthy and tasty. Above all, they help to keep the slim line, as they fill the stomach with a relatively low calorie density and thus the feeling of satiety lasts longer.