Recipes
Chocolate cake with cheesecake filling – recipe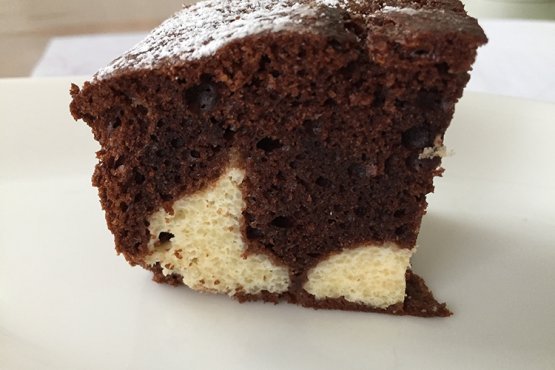 ingredients

For

12th

Servings
1
Tbsp
Butter, for the mold
1
Tbsp
Flour, for the mold

Ingredients for the dough

275
G
Flour
1
TL
baking powder
30th
G
Cocoa powder
250
G
butter
200
G
Semi-dark chocolate
350
ml
milk
300
G
sugar
2
Pc
Eggs

Ingredients for the cheesecake filling

200
G
Cream cheese, grainy, natural
60
G
sugar
1
Pc
egg
recipe

preparation
First preheat the oven to 160 degrees (top and bottom heat) and grease a wreath cake or bowl cake tin with butter and sprinkle with a little flour.
Then put the flour in a bowl and mix with the baking powder and cocoa powder.
Chop the chocolate and put in a saucepan with the butter, let it melt slowly, stirring frequently and then let it cool down briefly.
Now mix the milk with the sugar, stir in the chocolate mixture and gradually stir in the eggs.
Then carefully fold the flour mixture into the dough, so that a homogeneous dough is formed. Pour this dough into the prepared form.
For the cheesecake filling, quickly mix the grainy cream cheese, sugar and egg yolk. Then spread the filling over the chocolate cake batter.
Well that Chocolate cake with cheesecake filling Bake in the preheated oven for 60-70 minutes. Then let it cool in the mold, fall out of the mold and, if necessary, briefly put in the refrigerator so that the cream cheese mass becomes nice and firm.
Tips

to the recipe

Dust the cake with powdered sugar and serve.