Recipes
Seltzer cake with coconut – recipe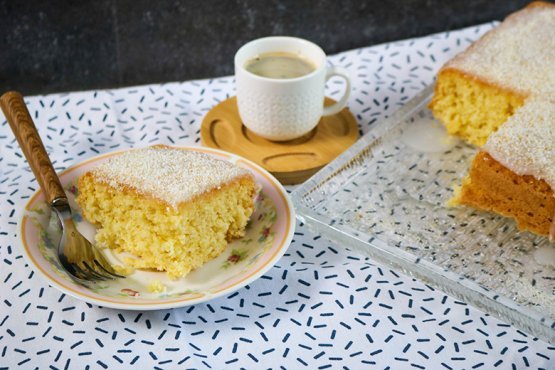 ingredients

For

1

Servings
200
G
Margarine, or soft butter
250
G
sugar
4th
Pc
Eggs, Gr. M.
350
G
Flour
1
Pk
Vanilla pudding powder
1
Pk
baking powder
200
ml
Selters, sparkling mineral water
2
Tbsp
Desiccated coconut

Ingredients for the icing

6th
Tbsp
Desiccated coconut
200
G
powdered sugar
4th
Tbsp
Lemon juice
recipe

preparation
First preheat the oven to 180 ° C top / bottom heat and line a baking sheet with baking paper.
Then put the soft margarine (or butter) with the sugar in a mixing bowl and stir until frothy. Add the eggs one by one to the batter and stir in.
Next, mix the flour with the baking powder, desiccated coconut and pudding powder and stir briefly into the dough.
Then add the seltzer, stir in a little and spread the dough onto the prepared baking sheet. Bake on the middle rack in the preheated oven for about 25 minutes.
Then remove the sheet cake and let it cool for about 30 minutes.
In the meantime, roast the coconut flakes in a pan without fat for about 3-4 minutes.
Stir the powdered sugar with the lemon juice until smooth, distribute it on the cake and sprinkle with the roasted coconut flakes.
The font on the Seltzer cake Let it dry for 20 minutes and then cut the cake open.