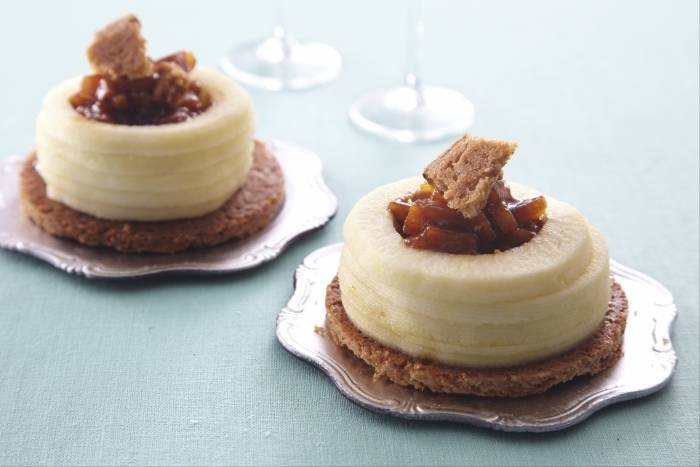 A crunchy dough disc with nuts, a headband of raw apples garnished with candied caramel apples.
INGREDIENTS
For 2 people
For the dough
Almond powder: 20 g
Walnut kernel (x): 20 g
Wheat flour: 40 g
Sugar powder: 40 g
Sweet butter: 40 g
For garnish
Apple (s) Pink Lady: 2 piece (s)
Sugar powder: 35 g
Sweet butter: 10 g
Fleur de sel: 1 pinch (s)
Whole liquid cream: 3 cl
Lemon (s) yellow (s): 0.5 piece (s)
DESCRIPTION OF THE RECIPE
1. FOR THE PASTE
Preheat the oven to 200 ° C (tea 6-7).
Finely mix the walnut kernels.
In a bowl, mix all the elements and then sand the dough with your fingertips until you obtain a coarse sand. Then work in the palm of your hand and form a ball.
Place the dough between 2 sheets of parchment paper and spread it on a thickness of 3 mm.
Bake for 12 minutes. At the end of the oven, detail 6 discs with the cookie cutter. Then leave to cool and reserve. Keep the remaining cooked dough for training.
2. FOR THE TRIM
Skip the apples to the apple peeler. Remove 3 cm on each side and dig the center of the apple with a cookie cutter. Keep 2 cm of edge and lemon them slightly. Crush the ornaments roughly.
In a hot skillet, pour the sugar and let it melt. In caramel color, add butter and fleur de sel. Mix gently and add the apple trimmings. Cook for 2 minutes and mix gently, the apples should be coated with caramel. Gradually add the cream, bring to a boil and cook on a low heat for 5 minutes.
3. FOR THE DRESSAGE
In a plate, place a sauce stain and add a dough disc. Place the circle of raw apples and garnish with cooked apples. Crumble the remaining crumble over the apple and drizzle with caramel sauce.
CHEF'S
"You can also make this recipe by trimming the base of the cake in puff pastry, and then bake it at 200 ° C for 20 min. Add a few granny apple sticks for acidity.