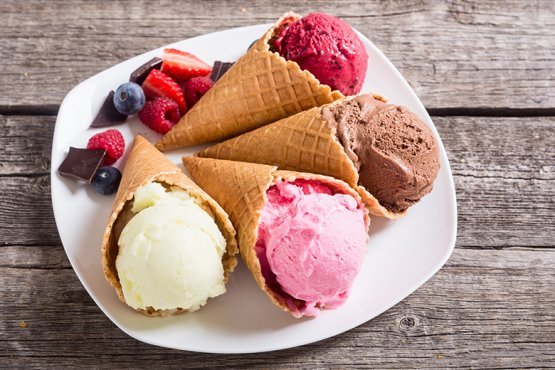 Homemade ice cream is not just a delight for children, adults will love it too. (Photo by: whitestorm4 / Depositphotos)
What ingredients do you need for homemade ice cream?
Ice cream can be on either Milk base or on Fruit base getting produced.
For milk ice cream, milk and cream are usually used in a ratio of 1: 1 and boiled with sugar in a saucepan. Milk ice cream can also be prepared with sour cream, yoghurt or mascarpone.
Egg yolks ensure that the liquid ingredients combine well.
The following plant-based milk drinks can be used to make vegan cream ice creams:
soy milk
Pistachio milk
Almond milk
Coconut milk
as well as similar varieties
For fruity ice creams, all fruits can be used that are provided by nature. Whether banana, citrus fruit, pineapple, passion fruit or apples, there are no limits to your imagination.
Exceptional ice cream creations can also be made from some types of vegetables. Tomatoes, pumpkins and carrots are very popular.
Sweet ice cream
In addition to sugar, honey, maple syrup or date sweetness are also suitable for sweetening the homemade ice cream.
If you want to prepare low-calorie ice cream, you can also sweeten the ice cream with sweeteners, stevia or xylitol.
Refine ice cream
Ice cream can traditionally be used with Vanilla, cocoa, chocolate or coffee be refined.
For more variety, the ice cream can be supplemented as follows:
Refine ice cream with flavors: It is also very easy to taste the ice cream flavors with all the flavors that are commercially available. Whether caramel aroma or rum aroma – the choice is huge here too.
Alcohol: Ice creams can also be seasoned with all types of alcohol and liqueurs, such as rum or prosecco.
Herbs: All herbs from the garden are also suitable to give the homemade ice cream a very special touch, such as basil, thyme, rosemary, mint, lemon balm, cress or parsley.
Dried lavender, rose petals or violets are also very popular for creating extraordinary flavors.
Creamy ice cream flavors are also popular with small ones Pieces of cake or chocolate refined.
Spices: Of course, ice cream can also be seasoned with all common spices. Whether cinnamon, ginger, clove powder, pepper or chilli, the choice is huge. The combination of caramel and pink Himalayan salt is also very popular.
Make ice cream yourself with an ice cream machine: step by step – this is how it works
Making ice cream with an ice cream machine is absolutely simple and straightforward.
Preparation of milk ice cream
For creamy ice cream from the ice cream machine, bring the milk or cream with sugar and the respective flavor carriers to the boil in a saucepan – constant stirring is important here so that the milk does not burn or boil over.
Then let the mixture cool slightly and stir in the egg yolks if desired.
Then cool the mass down completely and pour it into the ice cream maker. This only needs to be switched on and the ice will stir and freeze by itself. After about one half an hourDepending on the model, the creamy ice cream is already ready and can be feasted.
Preparation of fruit ice cream
For fruity ice creams, put the fruit and the desired ingredients in the blender and mix to a thick puree.
Now this also comes into the ice machine and is allowed to freeze there under the stirring movements of the ice machine.
Make ice cream yourself without an ice cream machine: step by step
Homemade ice cream becomes a fruity pleasure with fresh fruits. (Photo by: Shaiith79 / Depositphotos)
The first steps are identical as described above. It gets a little more difficult from the point at which the ice would usually be filled into the ice machine. Here the mass must now be transferred to a suitable container, which goes into the freezer.
In order for the ice cream to be creamy, it is important to stir the ice cream thoroughly every 30 minutes with a fork or whisk during the freezing process.
The ice needs about without an ice machine six hoursuntil it is ready to serve.
Make ice cream in molds yourself
Ice cream in molds is super easy to prepare.
Here, too, the first steps are absolutely identical. The prepared mass is then poured into the prepared molds, the stalks inserted and frozen. Depending on the size of the molds, the ice can already be two hours be frozen through.
For a refreshing water ice cream, it is enough to fill the molds with water with lemon juice, sugar and perhaps some herbs.
Any freshly squeezed juice can also be filled into molds and frozen.
Yogurt-based ice cream can also be conjured up in no time. To do this, simply mix yogurt with fruit and sugar and freeze in the molds. If you want that extra crunch, small pieces of nuts, muesli, biscuit crumbs or granola can also be mixed with the yogurt.
How long can homemade ice cream keep?
Since homemade ice cream contains no preservatives and is very natural, it is only about in the freezer Shelf life for 2 months. It may also be edible for a little longer. However, it is better to use the ice cream again as soon as possible. However, since ice cream can be made so easily and quickly, it is better to prepare smaller quantities more often.
What should be considered when preparing ice cream?
Of course it should be absolute hygiene be respected. If egg is used to prepare ice, it must not be frozen again after it has been removed once.
When making ice cream should always be on the quality the ingredients are respected. For fruity ice cream, it is best to use fully ripe and sweet fruits. In this case, you no longer have to use so much sugar for sweetening.
Our recipe recommendations: