chocolate strawberry cake
Being a blogger is abnormal some of the time. When I began this blog, I expected it to be a diary of sorts, connected to whatever I had prepared for the week. Incidentally it advanced into covering the formula of the day and the issues that I kept running into when making it. Which is certifiably not a terrible thing – it works – it's simply not actually what I proposed. All things considered, I don't frequently share a lot of what's happening in my own life except if I'm a long time into being wiped out or blustering about some random thing. Or then again perhaps it's simply that my life isn't as energizing as I suspected it might have been?
This week, I'm feeling like I extremely simply need to move a few things out into the open, and in the soul of my unique vision for this blog, I'd like to utilize this post to do as such. In the event that you'd preferably not perused my ramblings, don't hesitate to look down to the formula!
The day preceding I was intended to complete and shoot this cake, I got a call from my mother disclosing to me that my auntie had only months to live. She has been debilitated since a year ago and experienced broad malignant growth treatment the previous winter for a truly treatable, however late-organize, disease. She was given the all-reasonable in mid 2016, yet appeared to have progressing issues and regular checkups. Recently she had a MRI accomplished for something random. It uncovered that the malignant growth had spread quickly to her spine, and that there was no fix.
Why the damnation was this not discovered before? What were the specialists notwithstanding accomplishing for as long as year?? They knew there was an opportunity of it spreading, so for what reason didn't they discover it sooner? For what reason wasn't the MRI (or different tests) done months prior??
I am so irritated.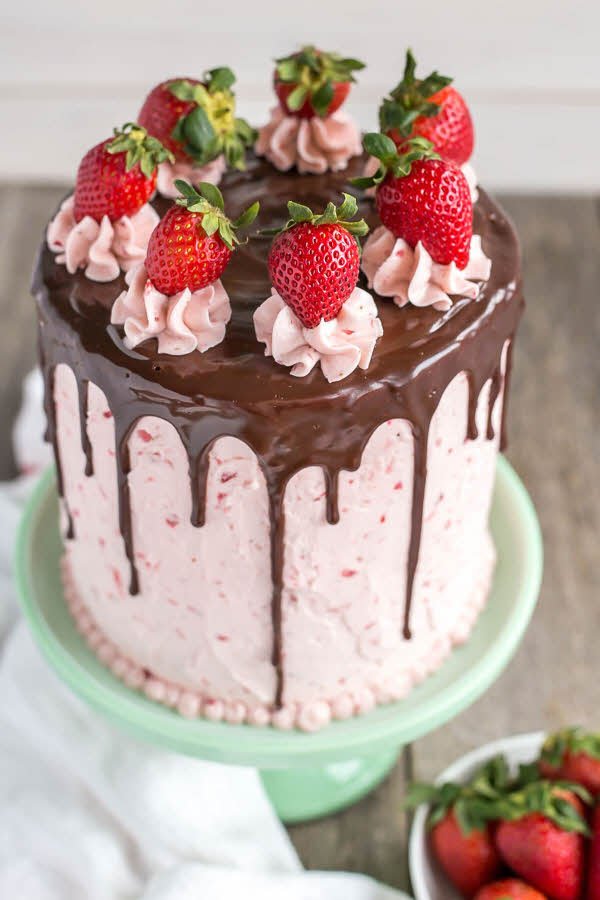 I'm not going to go into how much the medicinal framework in Canada sucks (it does, don't accept the publicity) and how crappy such huge numbers of the specialists are, or to what extent you need to sit tight for treatment (months, now and again years), or how frequently my auntie got sent home from crisis a year ago (before she was analyzed) with a shrug and no legitimate tests or treatment.
Reasonably, regardless of whether they discovered this new malignant growth early enough despite everything I don't figure it could have been dealt with, however at any rate everybody would have known sooner. There's a ton of things that could have/ought to have been done any other way, however they weren't and here we are.
Two days in the wake of getting that call, my mother and I were on a plane back to Edmonton to see my auntie (something else that sucks in Canada? Airfare costs). Despite everything I needed to complete this cake before we went, yet it appeared to be so minor with everything going on.
It would be putting it mildly to state that it was truly the exact opposite thing I needed to do. Not thinking about something and being a stickler prompts somewhat of a contention, so it's nothing unexpected that I am not 100% content with this cake or these photos, however what will be will be.
Driving yourself to accomplish something you would prefer not to do manufactures character, correct? So I constrained myself to complete this cake, realizing it would somewhat help remove my psyche from everything. I stuffed up a portion of this cake and one week from now's cake and took it to Edmonton for my auntie and cousin. They adored it, and I'm happy I gotten the opportunity to have them attempt a portion of my preparing. I won't delve into the subtleties of the visit, yet it was great. On a par with it could be considering the present situation. Moan.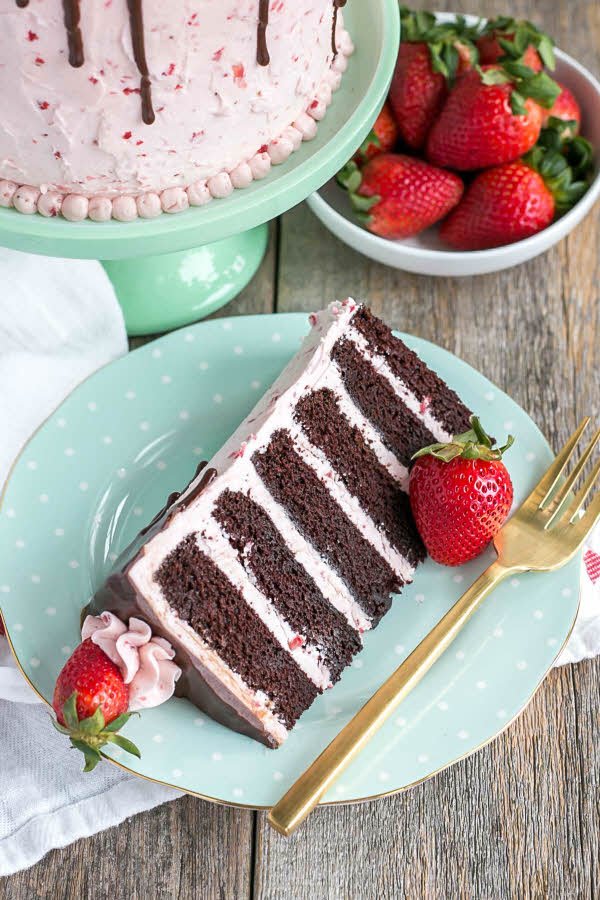 At any rate, in the event that you've overcome this entire post, a debt of gratitude is in order for tuning in to me meander!
Presently, this Chocolate Strawberry Cake… it's truly delightful. I made it into a 6 layer cake since, well, I needed to. You can leave it as a 3 layer cake, yet you'll make them ice left finished. The 6 layers is an incredible proportion as I would see it! The cake is my standard chocolate cake formula and the strawberry buttercream is my preferred Swiss meringue with some crisp pureed strawberries tossed in. All finished off with a straightforward chocolate ganache and new strawberries!
INGREDIENTS
Cake:
1 1/2 cup all purpose flour
1 1/2 cups granulated sugar
3/4 cup Dutch-processed cocoa powder sifted
1 1/2 tsp baking soda
1 tsp baking powder
1 tsp salt
1/4 cup vegetable oil
3/4 cup buttermilk room temperature
3/4 cup hot strong brewed coffee or hot water
2 large eggs
2 tsp vanilla
Strawberry Buttercream:
6 large egg whites
1 1/2 cup granulated sugar
2 cups unsalted butter cubed, room temperature
1/2 cup pureed strawberries (about 1 cup whole strawberries – stemmed, hulled, and pureed)
Ganache:
2 oz semi-sweet chocolate finely chopped
2 oz heavy whipping cream
US Customary – Metric
INSTRUCTIONS
Cake:
Preheat oven to 350F, grease three 6″ round baking pans and dust with cocoa powder. Line bottoms with parchment.

Place all dry ingredients into the bowl of a stand mixer fitted with a paddle attachment. Stir to combine.

In a medium bowl whisk all wet ingredients (pour coffee/water in slowly as not to cook the eggs if very hot).

Add wet ingredients to dry and mix on medium for 2-3 mins. Batter will be very thin.

Pour evenly into prepared pans. I used a kitchen scale to ensure the batter is evenly distributed.

Bake until a cake tester comes out mostly clean. A total of 30-35mins.

Cool 10minutes in the pans then turn out onto a wire rack to cool completely. Once cooled, cut each layer in half horizontally to get 6 layers.
Strawberry Buttercream:
Place egg whites and sugar into the bowl of a stand mixer, whisk until combined.*

Place bowl over a hot water bath on the stove and whisk constantly until the mixture is no longer grainy to the touch (approx. 3mins).

Place bowl on your stand mixer and whisk on med-high until the meringue is stiff and cooled (the bowl is no longer warm to the touch (approx. 5-10mins)).

Switch to paddle attachment. Slowly add cubed butter and mix until smooth.

Add strawberry puree and whip until smooth.**
Ganache:
Place chopped chocolate and cream into a microwave safe bowl. Stir to combine. Microwave for 20 seconds, stir. Microwave in 10 second intervals, stirring in between, until ganache is smooth and silky. Set aside to cool completely and thicken slightly before using on cake.
Assembly:
Place one layer of cake on a cake stand or serving dish. Top with about 2/3 cup buttercream. Repeat with remaining layers. Frost and smooth the outside with a thin crumb coat. Chill for 20mins.

Frost the cake. Using a small spoon, place dollops of ganache around the top edges of the cooled cake, allowing some to drip down. Fill in the top of the cake with more ganache and spread evenly with an offset spatula.***

Top with decorative dollops of frosting (I used Ateco tip 847), whole strawberries, and a pearl border (using Wilton tip 12).